New PDFZilla V3 Time-limited Giveaway [Closed]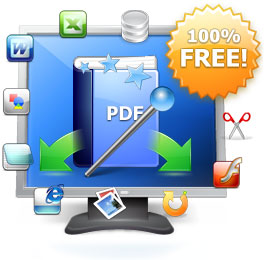 All-In-One PDF Converter - PDFZilla

Name
: PDFZilla

Type
: Shareware

Size
: 8.1MB

Price
:
$49.95 USD

Giveaway Serial Code:
Remove On Date

Follow Us On Twitter
This giveaway has been closed on July 7th, 2014.
PDFZilla Screenshot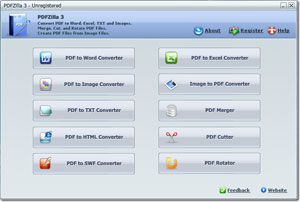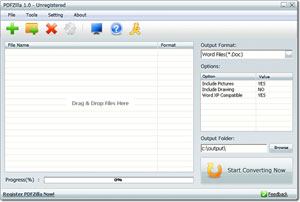 Learn How to Convert PDF to Word, Excel and Images etc.
Learn How to Convert JPG to PDF
Learn How to Merge PDF Files
Learn How to Cut PDF
Learn How to Rotate PDF

PDF Conversion Formats Supported
Output - PDF To:
MS Word(*.DOC), MS Excel(*.XLS), Plain Text(*.txt), Rich Text(*.RTF), JPEG(*.JPG), GIF(*.GIF), PNG(*.PNG), TIFF(*.TIF), Bitmap(*.BMP), Flash(*.SWF), Webpage(*.HTML).













Create - Image To PDF:
JPEG(*.JPG), GIF(*.GIF), PNG(*.PNG), TIFF(*.TIF), Bitmap(*.BMP), Photoshop(*.PSD), Icon(*.ico), PPM(*.PPM), TGA(*.tga).










PDFZilla Key Features
Convert PDF to Word
Convert PDF to Word with all text and Graphical data.
Convert PDF to Excel
Convert PDF to MS Excel format so that you can edit and extract PDF forms.
Convert PDF to RTF
Convert PDF to Rich Text Files. You can edit all text and graphic by Windows Wordpad.
Convert PDF to TXT
Convert PDF to plain text files. You can edit text by Notepad.
Convert PDF to Images
Convert PDF to BMP, JPG, GIF or TIF files.
Convert PDF to HTML
Convert PDF to HTML files and automatically generate the Index file.
Convert PDF to SWF
Convert PDF to Shockwave Flash Animation files which can be published on websites.
Convert JPG to PDF
Create a PDF file from images like JPG/PNG/TIF/BMP/GIF etc.
Rotate, Merge and Cut PDF Files
You can rotate PDF files 90 & 180 degrees, or merge several PDF files into one, or delete and cut pdf pages.
Page Selection
Convert all the pages, or partial pages of PDF file.
Easy to use software
Add a PDF File -> Select the Output File Format -> Click on Start Converting button, then just have a cup of coffee :)

PDFZilla Awards
Article
PDFZilla Partners
NOTE:
Are you a webmaster, blogger, Magazine Editor or internet columnist? We will present a
FREE License
of PDFZilla to you if you write reviews of PDFZilla on your own website, blog space, Magazine or column!
Click here >>