Everything you Need to Know About Monstrously Useful Converter on Windows - PDFZilla
Nowadays many files are sent and received, as well as kept in PDF format. However, those documents can rarely be edited in the original program, and even if they can, there aren't many options for it. And we often need to edit the textual content or to use the (whole or part of the) document as an image.
There are many PDF to Word converters you can use to convert PDF files. One of them is PDFZilla. It has been designed to help people accurately convert PDF files into a number of other formats such as DOC, HTML, TXT, JPG, GIF, and more. The steps are simple and quick.
In this text, you will be presented with the key features and merits of using this program for your conversion process.
What is PDFZilla?
PDFZilla is a PDF converter program. Their slogan is: 'A Monstrously Useful Converter You Will Not Want to Run from.' Hence the name.
The program is designed as a desktop application, so it cannot be used on the web directly but needs to be downloaded instead.
Also, it is not free. At the time when this article was written, the price was $29.95. When you buy the application from the PDFZilla website, you will get an email as an order confirmation. After several minutes, another email should arrive containing the registration info. If you don't get it, you need to contact the PDFZilla staff to see what went wrong.
There is a free trial version, but it converts only one-half of the original file.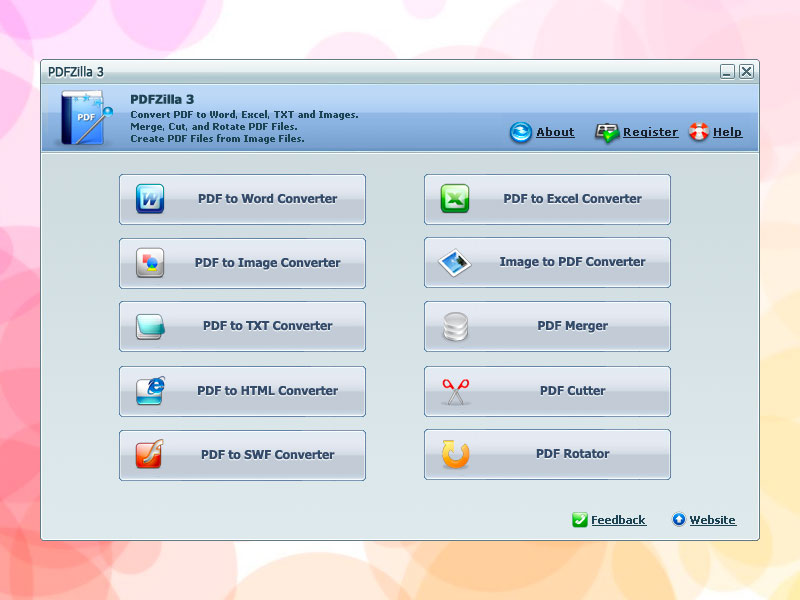 What Can I Do With PDFZilla?
First and foremost, you can convert PDF files into other formats that allow the content to be edited. The converted files can be editable MS Word documents, MS Excel Tables, Image files, HTML files, Plain Text files, Rich Text Documents, and Shockwave Flash SWF files.


It is worth knowing that the sole process of conversion is hidden, hence it is not visible on the program's interface. This has been done to make this PDF converter work faster. In this way, the CPU is used only for conversion and not for showing the process on the screen.


You can convert PDFs in only 3 clicks. That is why this PDF converter is easy to use and works fast.
The output file is of high quality because all the text and graphical images are converted. Nothing remains behind.


You don't have to convert the whole PDF document. If you need only several pages into another format, you can choose to convert those selected pages.


The program supports more than 20 languages as well as any Unicode Language PDF file.
The Batch Mode allows you to convert as many as 1000 PDF documents at once.


As for the options to edit PDF files, these are available as well. You can use the PDF Rotator to rotate them. You can also use the PDF Cutter to cut them. And you can use the PDF Merger to merge PDF files.


This application allows for another process - you can simply create PDF files from images.
What Are the System Requirements?
PDFZilla is designed for MS Windows OS, which means users of the following operating systems can download and use the application.
Windows 11
Windows 10
Windows 8
Windows 7
Windows XP
Windows Vista
Windows Server
The required processor should be Pentium (or anything better), and the application recommends Pentium 4 or any newer version.
It can work with a RAM of 1 GB, though 2 GB is optimal.
You also need 100 MB on your hard disc for installing the application.
Which Formats Are Available for Conversion?
You can choose your desired output format from this list of 10 formats that PDFZilla supports:
DOC - MS Word Format (but not DOCX)
XLS - MS Excel Format
TXT - Plain Text Format
RTF - Rich Text Format
GIF - Graphics Interchange Format
JPG - JPEG Image Format
BMP - Bitmap Image Format
TIF - Tagged Image File Format
HTML - HyperText Mark-up Language File Format
SWF - Shockwave Flash Format
How to Convert Documents With PDFZilla?
To convert PDF to Word/images/HTML files, the steps are simple once you have installed PDFZilla.
Click the Add button.
Choose the PDF file you want to convert.
Select the desired format.
Make sure you have the right output folder path.
Click the Start Converting Now button.
Wait for the conversion process to finish.
The reverse process, from image to PDF, is also simple to perform.
Click the Add button and choose the image you want to convert. (You can just drag and drop.)
Make sure you have the right output directory path.
Click the Convert to PDF Now button.
Summary
PDFZilla is a desktop application which you can use to convert PDF documents to SWF files/images/HTML files, or a Word document, all of which you can edit. There are 7 more file types you can covert your PDF file into. This PDF converter can also convert images to PDF format.
The use of this PDF to Word converter is simple and efficient with a high-quality final result. You can convert just several selected pages of one document or many PDF files at once. The program supports more than 20 languages. The trial version lets you taste the program by letting you convert 50% of the file.
---

Author
Stefan Mitrovic

PDFZilla Awards
Other Products