How to Add Pages from MS Word to PDF Files and Reorder Pages on Windows
Are you facing trouble adding pages from a Word file to a PDF file? If yes, then PDFMixer.com is what you need. There are times when we need to add pages to existing PDF documents. We may wish to import Excel sheets, PowerPoint slides, and Word pages or merge two or more PDF files in one. PDF Mixer offers a one-stop solution for all your mixing and merging requirements. Here's everything you need to know about PDF Mixer and how you can use it to add pages from MS Word to PDF files.


What is a PDF Mixer?


PDF Mixer is a free software utility that allows you to organize PDFs into a manageable form. It offers help in reordering the PDFs, mixing two or more PDFs, adding pages into the existing PDF files, and saving them as a new file.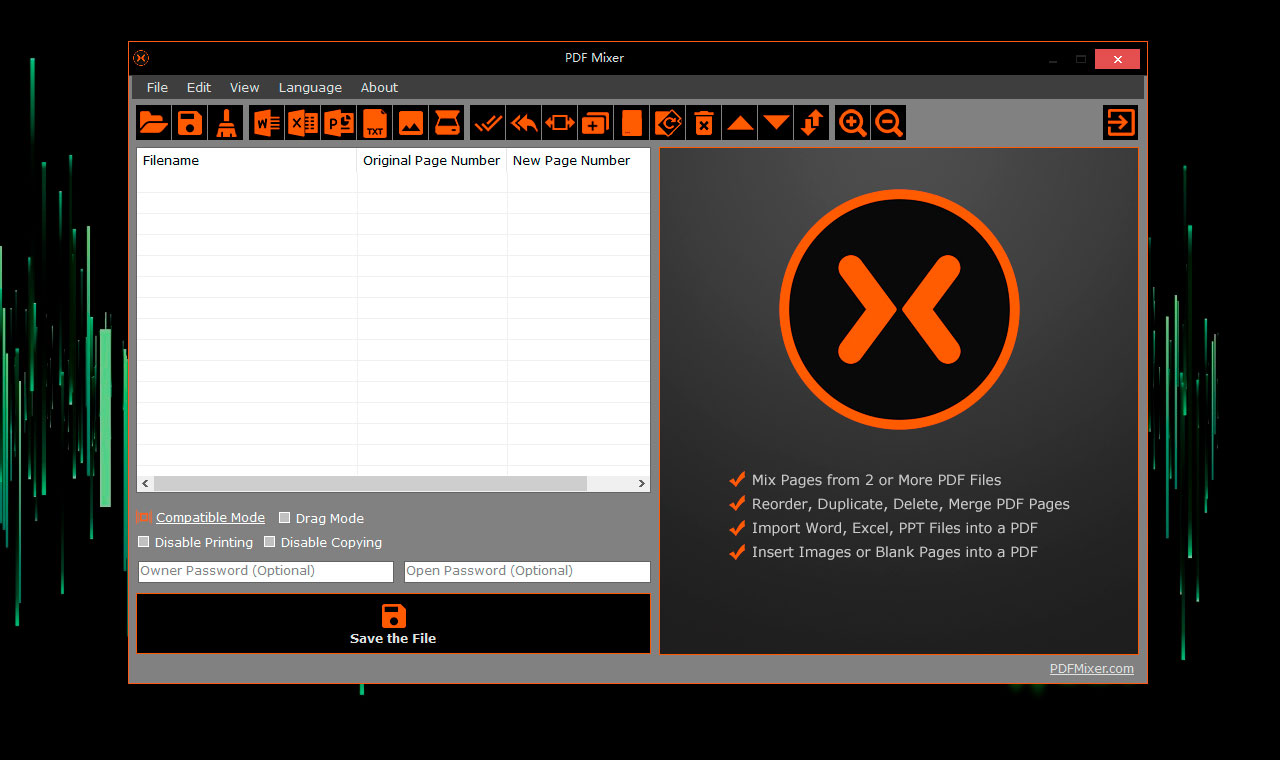 This software is supported on many operating systems like Windows 11, Windows 10/8/7, Windows Vista and Windows XP. In addition to this, it supports a wide range of file formats like Excel sheets, Word documents, PowerPoint files, images in formats like JPG, GIF, PNG, and so on.


Key features of PDF Mixer

PDF Mixer is embedded with a wide range of features that can make your life very easy. Here are some of the key features of PDF Mixer.


1. Mixes pages
You can mix several pages of a single PDF or multiple PDFs to create one single PDF file with the help of PDF Mixer. You can mix multiple files, select pages from PDF files and add them to existing files. You can also open two or more files and merge them into a single file. It also offers page sequence adjustments options like 2-page switching, multiple moving up and down and so on.


2. Offers many operations
PDF Mixer offers a range of operations that can be performed on the pages of the PDF. You can reorder the pages, copy, rotate, delete, switch and merge the PDF files in this utility tool.


3. Adds blank pages
In PDF Mixer, you can also add blank pages and images to your PDF files in case you want to add more data to the PDF. You can also make clone pages in the PDF file by choosing the "Make a Copy" option.


4. Imports pages
It allows you to import files from other document extensions like Word, PowerPoint, Excel, and even scanning tools by clicking the "Import from Scanner" option. You can import the pages, reorganize them in the pages lists and save them as a new file.


5. Password protection
PDF Mixer offers added protection through passwords and permissions to access PDF files. So you can protect confidential files from misuse or corruption.


6. Create PDFs
With PDF Mixer, you can create PDF files from other file types like Word, PowerPoint, and Excel. So you don't have to use any other third-party conversion software to create PDF files. All you have to do is open the PDF Mixer, select the file and save it as a PDF.


7. Drag and drop options
PDF Mixer allows you to drag and drop files or make multiple selections of files. You can easily add files without having to select the files by browsing through the PDF Mixer window. You can import images by selecting the "Import an Image" option.


How to Add Pages from MS Word to PDF Files?


If you need to add pages from MS Word to a PDF file, you can easily do it by using the PDF Mixer, which is an amazing tool to do a lot of things with PDF files. To add pages from MS Word to a PDF file through PDF Mixer, follow the steps given below.

1. Download and install PDF Mixer on your PC or laptop.

2. Open the PDF file in which you want to add the pages from MS Word by clicking the "Select files" or "Choose files" option on the window.

3. When the file opens, click the option corresponding to the MS Word and select the file whose pages you want to add in the PDF file. The PDF Mixer will automatically add the pages of the Word file in the PDF file.

4. Organize the pages in the PDF and save them as a new file.



PDFZilla Awards
Other Products