How to Copy a PDF into Word without Losing Formatting
We've all moved on to using PDF format as the primary format of documents. PDF documents come with enhanced security features like passwords and anti-copying option, which enables people to exchange documents on with confidence.

However, this comes with its own set of problems. Suppose you receive a file that you urgently have to edit or modify and pass on to the next party. If the file happens to be in a PDF format, then you will be at a significant loss since PDF files cannot be tinkered with.

You may have to copy out the PDF document content manually and then editing it, but copying text from PDF into a Word file would lost the original formatting. However, PDFZilla could simply convert PDF content into Word format without losing the original formatting and layout, and your PDFs can now be converted at blazing speeds.


Amazing Features of PDFZilla
Convert PDF Files in Bulk
PDFZilla allows you to convert multiple files at the same time. Simply add them all, process, go for a cup of coffee and return to see your files converted and waiting for you!

Wide Variety of Conversion Formats
Word, Excel, RTF, TXT, GIF, PNG... There's virtually no limit to the number of choices you have for conversion using this tool!

Fast Conversion
Conversion is done in a matter of seconds, saving time and resources, letting you get to the next task in hand.

Retention of Content Integrity
Most converted files suffer from the dreaded conversion gibberish factor, where your document turns to absolute gibberish. Luckily, PDFZilla ensures your documents don't suffer from this flaw.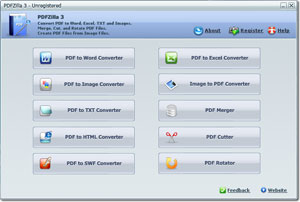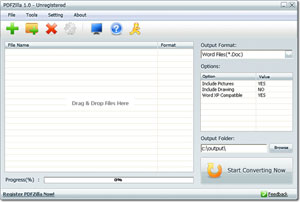 How to Copy a PDF into Word without Losing Formatting in 5 Steps
Follow the given step and you'll be converting documents en masse in no time.

Step 1: Download and Install PDFZilla
Download the installer from the download page and run it to install.

Step 2: Start Adding Files
Click on the 'Add' button to begin adding your files. If you have multiple files that you have to add, you can also make use of PDF Zilla's Bulk Add feature, a handy little tool helping you convert PDFs in bulk.

Step 3: Select Output Format
Thanks to PDFZilla's varied list of output formats, you are spoilt for choice in this department. However, if you are looking to convert the PDF for editing purposes, select either the .doc or .docx format, since these are the most commonly used Word file formats.

Step 4: Convert
Click on the 'Start Converting' option, which can initiate the document's conversion. The PDF will now be converted into a proper Word document. Due to the tool's blazing fast abilities, the conversion will be over in a few seconds.

Step 5: Open the document in Word
Once the tool declares the document to be converted successfully, go to the output destination. You can open up the converted document then, and start editing your document smoothly.

Isn't It Easy? Once you've had access to the proper tools, it is easy to copy a PDF into Word. PDFZilla simplifies the whole process to a great extent by shortening the proceedings and increasing the tool's processing abilities. Go converting your PDF files now and save your time!



PDFZilla Awards
PDFZilla Key Features
Convert PDF to Word
Convert PDF to RTF
Convert PDF to TXT
Convert PDF to Images
Convert PDF to HTML
Convert PDF to SWF
Page Selection
Easy to use software
PDFZilla Links