PDFZilla Review From NewsTips
These days, between features embedded in applications or utilities & all the e-mail attachments that arrive, we all have growing collections of PDF files, but what if you need those pages in some other format? We'll confess to being suspicious of the claims for PDFzilla, but having tried it, we're very impressed. You start by adding one or more PDF files you want to convert; it lets you convert one at a time, a folder at a time or in huge batches (in our test run, conversions ran at less than 1 second per file); it also lets you convert to a single page or a limited page range. There are some output format: Word DOC, RTF, HTML, TXT, JPEG, BMP, GIF, PNG, TIF and Flash SWF.

Bottom line: PDFzilla is a promising utility for PDF pages into other useful formats, and is very useful indeed for several kinds of need.





Quote this article please link back: https://www.pdfzilla.com/newstips-review.html


Convert PDF To Word In 3 Clicks!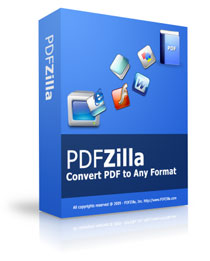 Editable
- Edit Your PDF Documents In MS Word!

Easily
- Convert PDF To Word Document Just In
Only 3 Clicks
.

High Quality
- Convert PDF To Word with
ALL
text and Graphical Data.

Page Selection
- Convert Selected Pages of PDF File To Word document.

Over 20 Languages Supported
- Besides English, PDFZilla
Also
supports German, French, Spanish, Italian and all Unicode Language PDF Files.

Batch Mode
- Convert More Than
10,000,000
PDF Files to Word Documents at One Time.

PDFZilla Awards
PDFZilla Key Features
Convert PDF to Word
Convert PDF to RTF
Convert PDF to TXT
Convert PDF to Images
Convert PDF to HTML
Convert PDF to SWF
Page Selection
Easy to use software
PDFZilla Links